Dolphins and Whales watching around Tahiti
Throughout the year (except during whales season), come to approach and watch dolphins playing near the passes of Tahiti. Live for a few moment with these magnificent and friendly mammal that just waiting to amaze you.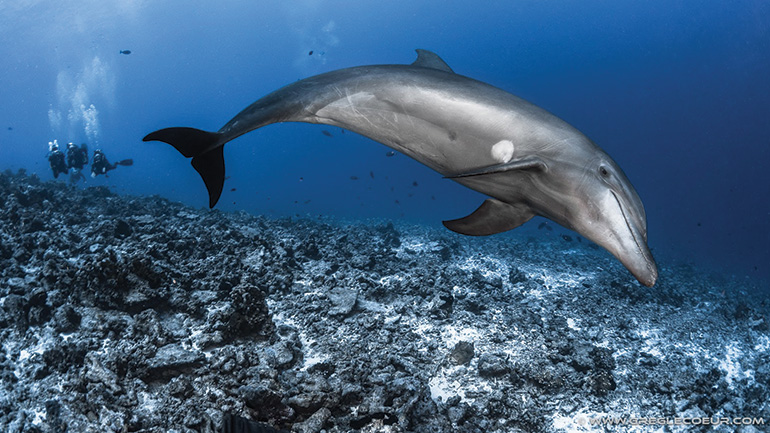 During a tour of two hours conducted by a specialized guide, you will meet by couples or families the dolphins that are particularly fond of polynesian waters. The luckiest of you will have the joy of swimming with them and meet the dolphin in its natural environment, but only if they allow it !! This encounter will be simply an amazing experience, you will not soon forget, we guarantee that !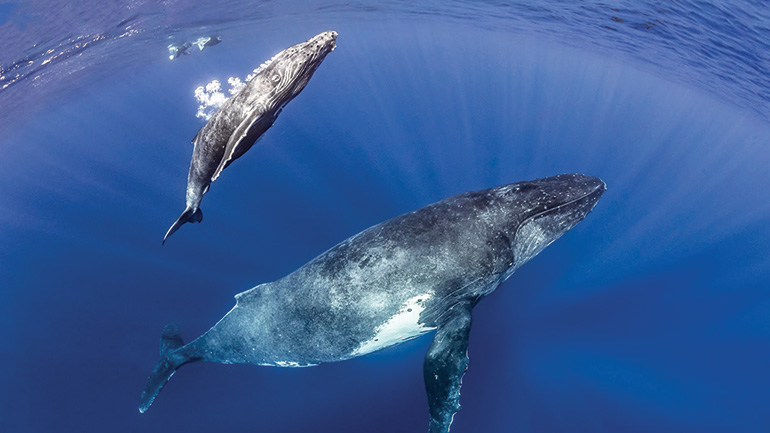 Every year, from August to October, Polynesian waters welcome many humpback whales (Megaptera novaeangliae) coming to mate and give birth before returning to the South pole. During this period, one can encounter these whales around Tahiti , solitary or with their offspring. For this season, TOPDIVE Tahiti dive center invites you to join our whales watching tours to observe the migration habits of this unique mammal.
Monday to friday : 7:30am – 10:30am and 13:30am – 16:30am
Saturday and sunday : 7:30am – 10:30am, 11:00am – 14:00pm and 14:30pm – 17:30pm
In the comfort of our covered boats and in the hands of experienced diving instructors and divemasters onboard, we offer the best conditions for a safe approach with a deep respect for the animals. Sometimes you can get lucky and have an opportunity for a snorkeling session with some whales and their young. An unforgettable experience ! During the season, we also offer whales watching around Bora Bora in private tour. Live the whales watching experience in Tahiti through our tale.