I booked two dives in Bora Bora with TOPDIVE. At 8:30am. The TOPDIVE's white boat called « Parata » with its floating diver flag came to pick me up directly to the hotel's pontoon.
There were already other divers on board. I get acquaintanced with Romain (our boat pilot), Julien (the dive instructor) and the 5 other divers. They are all Open water or Advanced level.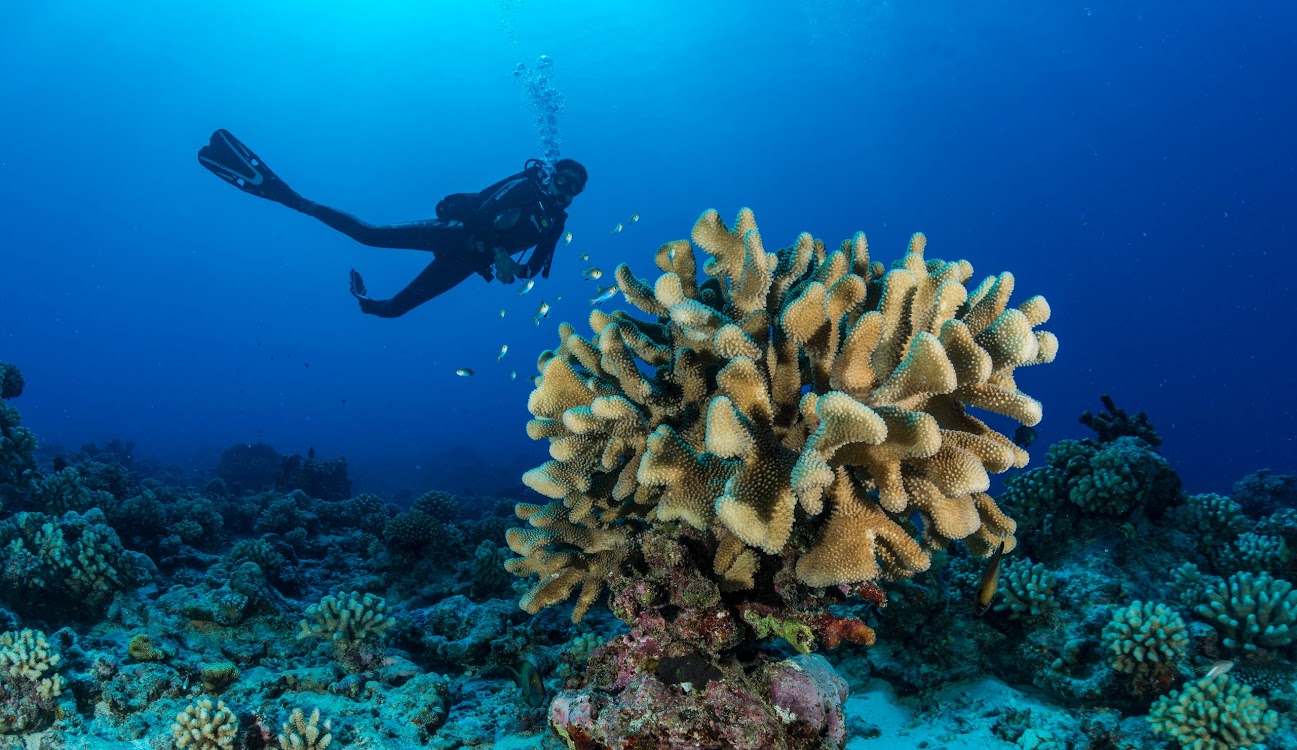 Once aboard, we headed towards our first dive site. Bora Bora really offers the most beautiful lagoon of the world. This island is well known for its important population of rays :manta rays on the Anau dive site and eagle spotted ray around Toopua. We went along the reef to reach the green buoy marking the channel. We could contemplate the famous Otemanu mount overlooking this bay.
" Swimming along the corals I get nose to nose with a couple of whitetip sharks. "
We set in the water from the spacious back deck of the boat. Underwater, I arrived directly on a sand slope for starting the drift dive. This gentle slope (from 6 to 45fts depth) allowed us to equalize inner ear calmly. The dive site is a series of sandy and coral canyons. Arrived to our first "basin" we zigzaged in a coral labyrinth where tiggerfish, surgeonfish, butterflyfish and mullet live… The underwater landscape is splendid.
Swimming along the corals I get nose to nose with a couple of whitetip sharks. Then, our dive instructor spotted three rays, right above us. It was a small shoal of eagle spotted rays. They glided effortless with an incredible grace. After a few seconds this discreet trio disappeared into the blue.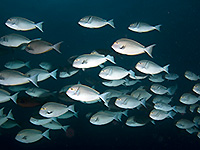 We continued our dive to a sandy area where alonghorn cowfish came to meet us. We progressed slowly on the sandy bottom searching for another shoal of rays. The diver team and I stopped by a rock, on the behind of the summit of the canyon. From this point of view we could detect a dozen of eagle rays "flying" in the valley. Some rays were searching for preys in the sand. Others swam frenetically from side to side of the shoal.
We stayed immobile to avoid frightening these fearful animals. Unfortunately, another diver group came to join the area making flee the rays.
At the end of the canyon, we followed a strip of sand crossing the channel to a coral garden. Our boat was anchored there close to the beautiful coral garden. During our progress toward this garden, Julien noticed another shoal of eagle rays far ahead. We stayed immobile watching the rays spinning right before our eyes. We couldn't count them because of their important concentration. Immediately, the underwater photographers of our team tried to get a sensational picture of this beautiful scene.
We just reached the zenith that, it was already time to think about the back to the surface. Our oxygen level reduced continuously. The colorful shallow coral plate was perfect for our short decompression stop. A Polynesian free dive was feeding a moray eel a few meters away from us. Some damselfish, sergeant and longfin bannerfish took this opportunity to fill their bellies. It was a fun show. Clown fish, blue, green and mauve maxima clams delighted us too.
The dive ended and a last ray came to greet us. This 50 minutes dive was perfect. Each one comparing our impressions we set off a new towards the Tapu site for our next dive.
© Photos : V.Truchet, P.Joachim