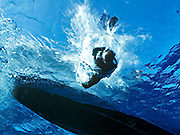 Fun dive in french Polynesia
The underwater encounters that are possible in all polynesian archipelagos explain the enthusiasm of divers for the destination : sharks, dolphins, turtles, whales. The dives constitute in themselves the reason for a trip.
What makes the charm and beauty of diving in Polynesia is its wildlife. Schools of great barracudas, napoleons wrasses, surgeons, unicorn, snappers, soldiers fish, groupers, lionfish …
The presence of sharks is almost guaranteed, it is really rare to not see them. Protected by law since 2006, they are part of the landscape.
Fun dive with TOPDIVE :
All equipment are included : fins, mask, snorkel, regulator, timer / depth gauge / computer, weights.
You are guidded by a state licensed professional.
Your guide will inform you, guide you and ensure your safety during the dive.
The boats are comfortable.