The Grey Shark Wall (Tumakohua pass), Fakarava South
For this new dive in
Fakarava
, we descended right at the entrance of the pass where we surfaced from our first dive. Still timed for the incoming slack tide, we skirted the pass bed into a gully of about 90 feet. As we descended, we started to notice quite a
large concentration of grey sharks
in the area. I don't think I'd seen as many sharks in my life.
Continuing till along an undersea ridge, we came upon a grotto on the right side. Franck purposely lead us to this "lookout". Obscured by the reef side, the grotto proved to be an ideal viewing area for the famed "grey shark wall" and there were just hundreds of them !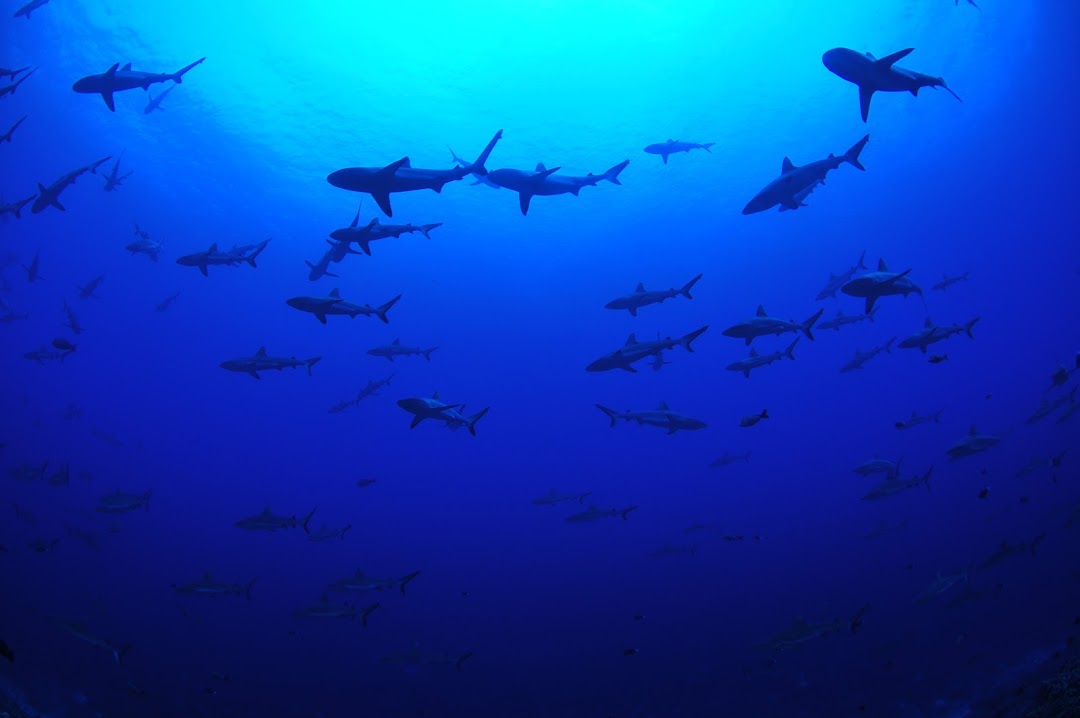 Indeed, the grotto was a welcome shelter to view the shark spectacle. I had never seen this before, many sharks gathered in front of me . There are literally hundreds and hundreds of individuals, the horizon is covered with shark fins ! Even if this grey reef shark is not the most impressive shark of french Polynesia, be face to face withsuch a large number of sharks is a breathtaking experience.
"Along with the sharks, other amazing wildlife frequented the area. Napoleons wrasses were a common sighting as well as barracudas, large marbled groupers, huge jackfish and the countless shoals of yellow goatfish that inhabit the montipora coral that richly covered the surrounding seascape. "
With this rich coral growth, we observed also schools of Bullhead parrotfish grazing on the coral algae. The circle of life in the coral sea. As we surfaced in the shallows, a beautiful yellow shoal of goatfish obscured the mouth of our exit on the beach front at Tetamanu. A picturesque way to end our dive !
© Photos : V.Truchet, S.Girardot, E.Cheng, G.Lecoeur