TOPDIVE–Bathys participates in Responsible Business Week
In the spirit of "Responsible Business Week", organized by InterContinental Resort Tahiti and National Geographic's Center for Sustainable destinations, Topdive-Bathys Tahiti participated in a series of marine efforts to fulfill their responsibility in the protection and the preservation of the local marine environment.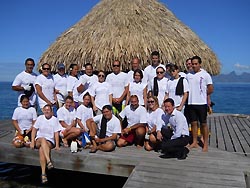 This week long series of activities focused on the aim of the InterContinental hotel chain to get involved with activities aimed for the improvement of the destination's appeal for the sustainable future.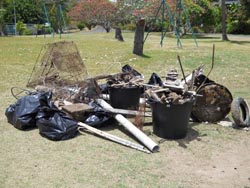 In a concerted effort to making Tahiti a sustainable destination, the TOPDIVE-Bathys Tahiti dive center team participated in a community reef clean-up program in the spirit of good fun and civic responsibility on October 10, 2011.
With technical support and assistance of the TOPDIVE-Bathys Tahiti team, 22 volunteers participated in the clean-up on the west coast of Tahiti where the majority of reef activity exists. Well equipped with snorkel gear, rubbish bags, in boats and kayaks, an energetic team spirit, and a good dose of fun, the 22 volunteers and the TOPDIVE-Bathys team spent a productive morning with the satisfaction of a cleaner lagoon.
Another effort to serve this goal was a coral replanting program organized on October 5. Under the supervision of Bora Bora Eco Fish, where different species of coral were introduced into the Lagoonarium in the aim of repopulating the reef.