After a splendid first dive in the Tikehau lagoon, (at the old pearl farm site) we were heading to the
unique pass of the atoll
, the Tuheiava pass.
This small pass is approximately 660ft wide (in the narrowest part) and offers beautiful shallow waters full of sea life. The lowest step is about 95ft deep and the highest is about 32ft, this causes a very slow outflow of the lagoon. There, the current is the result of the swell and the water level in the lagoon. So, it is necessary to be directly at site to determine the current direction it flows.
My two dive buddies were beginners and already apprehensive of the rough ocean conditions. The pass is located in the west of about 14km in front of the main motu (island). Near the pass we observe numerous open water fish traps maintained by the inhabitants of neighboring motu. As we approach the pass, small waves start to form and we observe the "mascaret" or the powerful crosscurrents in the pass during the changing of the tides. Seen from the boat, visibility is tops as we could see the bottom announcing a perfect dive for observing marine life…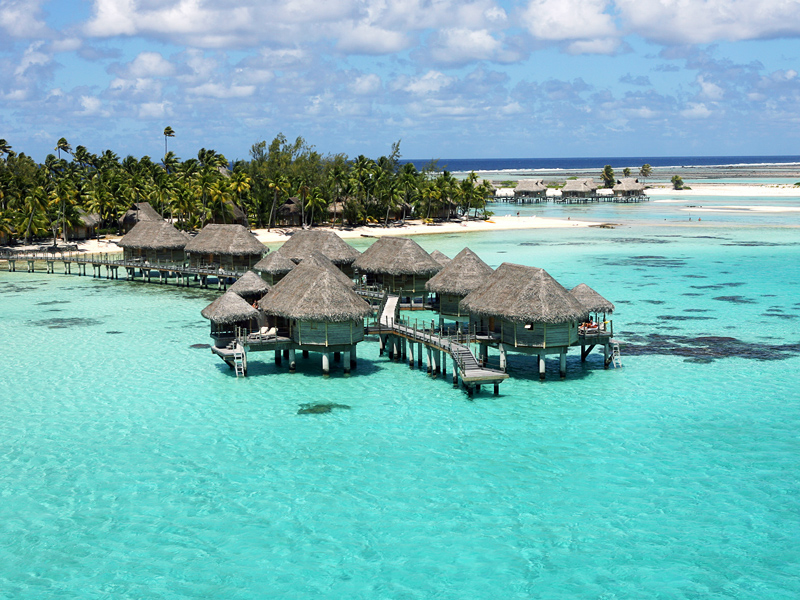 © Tikehau Pearl Beach Resort
Our boat was positioned near the reef at the right angle of the pass. The standard backroll entry was easy. There were no waves to disturb our 32ft dive; the ocean was calm as a lake. We quietly reached the top of the 82ft site. As we swim toward the pass, we ride the current. Suddenly, a big glittering mass immediately captivated our attention.
Following our guide, we observe a large and dense shoal of Heller's barracudas. A reasonably large shoal passed over our heads splitting in two groups. The shoal dispersed again cut by a dogtooth tuna and two milkfish interrupting their path. The silver Heller barracuda's body reflected the sunlight which was quite amazing.
" The current accelerated as we moved to the last step. We drifted to the lagoon effortlessly. "
There, the reef was covered withAcropora corals. Reaching the pass, the scenery became more lunar with less and less coral. I later learned that the current could be really strong in that area preventing the growth of marine flora. With strips of sand alternating with rocky faults, we spent the two-thirds of our time at 32ft up current searching for "big fish".
The current accelerated as we moved to the last step. We drifted to the lagooneffortlessly. According to the instructions of our guide, it was important to stay together during the drift. Cool to finally experience what it was like to "shoot" the pass. Finishing the dive, our guide deployed his DSMB (Surface Marker Buoy) for our decompression stop. A manta ray coming from the lagoon crossed our path.
Encounters were abundant and always different in this small beautiful pass… A must-do dive!
© Photos : V.Truchet, T.Kotouc, P.Joachim, S.Girardot