Far from the hustle and bustle of urbanlife and situated between the sky and the sea, Rangiroa is a world by itself ! On drift dives and with the current flowing strongly inwards, pelagic encounters offer unforgettable moments of wonder… Dives in Rangiroa are action-packed and exhilirating, with sightings of dolphins, marlin, grey and hammerhead sharks, manta rays… A MUST DO for divers.
The TOPDIVE Rangiroa dive center is perfectly located, on the Avaturu side of the Tiputa pass and at less than 10 minutes by boat to the most beautiful dives Rangiroa has to offer.
Rangiroa is the largest atoll in French Polynesia and the second one in the world : it could contain in its center the whole island of Tahiti. Rangiroa is a natural aquarium, ranked by Jacques Cousteau as the most beautiful and the richest site in the world. Discover the beauties of the lagoon through various excursions : glass bottom boat, Blue Lagoon excursion to the island with reefs and pink sands, Bird Island. Divers will find : "clouds" of surgeons, mullet, wrasses, ballets of manta rays, schools of jackfish or barracudas, sharks of all types (grey, white or black tip, hammerhead) and dolphins. Finally, the pearl farming is part of the daily life of the inhabitants of the atoll.
We like :
Free Nitrox immediately available
Dolphins encounter
Drift dive
Free transfers from all resorts and pensions
TOPDIVE Tahiti dive center
+689 40 53 34 96
Open everyday from 8:00 to 17:00
InterContinental Tahiti Resort
POBOX 42692, Pape'ete
98713, French polynesia
More
La Zélée
Ocean dive /15mn boat ride
Mooring depth : 33 feet
Maximum depth : 196 feet
Site located around Papeete, next to the main port, near the pass. The site of an old wreck in several pieces. You can see black and pink coral at around 70 feet. Many pelagic fish frequent the area.
The white valley
Ocean dive /20mn boat ride
Mooring depth : 50 feet
Maximum depth : 200 feet
An exceptionally beautiful dive for its marine fauna. Blacktip sharks, Lemon sharks and Grey sharks. Schools of silver jackfish, triggerfish and a myriad fish species. Recommended for a drift dive.
Aquarium
Lagoon dive /1mn boat ride
Mooring depth : 6.5 feet
Maximum depth : 40 feet
Located on the west coast near our dive centre, it is certainly one of the best spots for novice divers to discover. You'll find a coral ring, as an ideal introduction to the first dives. Hundreds of colourful tropical fish frequent the area and "play" with their visitors. The 3 wrecks serve as artificial reefs to this area: a Cessna (16 feet long) and 2 boats.
The Arue fault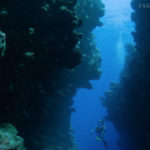 Ocean dive /25mn boat ride
Mooring depth : 50 feet
Maximum depth : 196 feet
Located on the east coast of Tahiti, the dive site is a beautiful undersea cave at the depth of around 100 feet. A wall starts at around 15 feet where you'll find different species of fish and crayfish. Considered as one of the more attractive dives on the east coast.
Papa whisky
Ocean dive /15mn boat ride
Mooring depth : 65 feet
Maximum depth : 165 feet
"Papa whisky" is the name given to the small artificial island located adjacent to the airport of Faa'a. The breaker one can distinguish on the surface seems to be that of a cliff. It is, in fact, the edge of a vast amphitheatre (230 feet long) created by the collapse of one part of an undersea plateau. The interior of the structure better withstands the force of the surrounding currents.
At this point, 2 exploration dive plans are possible; one by way of the southern extremity of the arena and the other one from the northern point. Both options are recommended only to experienced divers. The journey on the South side is a beautiful geographical fault covered with yellow gorgonian coral formations. The north point is also rich in gorgonian coral although there are groups of violet coral. Once in awhile, you may come across some tuna that sometimes follow divers from a distance before disappearing into the blue. The visibility is often excellent from 150-200 feet where the ocean becomes an abrupt wall of cliff. You'll find that the Gorgonian coral even bigger and dense at this depth.
Moray eel point
Ocean dive /10mn boat ride
Mooring depth : 65 feet
Maximum depth : 147 feet
Located on the west coast in the direction of Punaauia, near the Tapuna pass. You find a coral plateau with canyons. There is also coral reef barrier where you may see moray eels, Blacktip and Whitetip sharks as well as other marine species.
Turtle's flat
Ocean dive /8mn boat ride
Mooring depth : 50 feet
Maximum depth : 130 feet
The dive owes its name to the fantastic turtles that you may see. Generally, you'll see 3-5 very friendly turtles that you will never forget. Around the site, you'll appreciate the drop-off inhabited by blue coral.
The spring
Ocean dive /15mn boat ride
Mooring depth : 50 feet
Maximum depth : 100 feet
The site is named after a spring of fresh water emerging from the depths of the ocean. The source emerges from 15 – 20 feet below the surface. It is easily visible through the column of bubbles of water that escapes. Beyond the source, you can go down to 70 feet. It is quite possible to encounter sharks or at night Humphead Maori wrasses. From both sides of the spring range are beautiful valleys that are parallel to the coast. These valleys are rich in marine life. Many turtles come and « play » with the divers.
Temaruata
Ocean dive /20mn boat ride
Mooring depth : 73 feet
Maximum depth : 100 feet
The beauty of Polynesia in one place! Enjoy the exceptional view of the coral garden, where all species of fish abound. White tip sharks, barracudas, moray eels swim around you. The site offers the opportunity to "bait" sharks. The variety of corals will amaze you. Take the time to explore this area and let the fish amaze you.
The sea fans
Ocean dive /30mn boat ride
Mooring depth : 33 feet
Maximum depth : 200 feet
Site located on the west coast near Paea, it owes its name to a roof covered with fantastic Gorgonian coral. You may encounter Silky sharks taking refuge in the faults.
The wrecks
Lagoon dive /5mn boat ride
Mooring depth : 20 feet
Maximum depth : 70 feet
This dive allows you to explore the wrecks of a plane and an old schooner, one of the last relics of the inter-island traffic from past years. The airplane wreck is situated on a sand bar, lying on its right wing. You can even safely explore the wreck by the port located on the fuselage's left side (less than 50 feet in depth) or through the cockpit. A bit farther, you'll find the schooner, still considered to be a beautiful wooden wreck.
TOPDIVE Moorea dive center : InterContinental Moorea Resort & Spa
+689 40 56 31 44
Mobile +689 87 74 51 91
InterContinental Moorea Resort & Spa
Hilton Moorea Lagoon Resort & Spa
More
TOPDIVE Moorea dive center : Hilton Moorea Lagoon Resort & Spa
+689 40 56 31 44
Mobile +689 87 74 51 91
InterContinental Moorea Resort & Spa
Hilton Moorea Lagoon Resort & Spa
More
Tiki point
Ocean dive /12mn boat ride
Mooring depth : 55 feet
Maximum depth : 75 feet
World famous for its clear water, numerous sharks and fish, this site is an area where wild sea life is incredibly abundant and stirring. It is the spot for of most Moorea marine surprises and, occasionally a very good spot for whale or dolphin watching. You will see many black tips sharks, grey reef sharks and the big (10 ft) lemon sharks. Discover why so many professional underwater photographer come to work here…
Aito
Drift dive /10mn boat ride
Mooring depth : 55 feet
Maximum depth : 80 feet
Close to Tiki point, you will find similar marine life except for an occasional turtles. With luck you may see up to 7 during the same dive, and many Emperor Angel fish. The reef break is a bit deeper and we may have some current. Incredible marine flora and fauna !
Taotoï
Ocean dive /4mn boat ride
Mooring depth : 35 feet
Maxi depth : 60 feet
One of our favourite spots. Many fishes move from one side of the island to the other, passing through this area. As one of the highlights – you will enjoy the huge moray eels quite impressive.
Taotoï pass
Drift dive /2mn boat ride
Mooring depth : no Mooring
Maximum depth : 60 feet
An exceptional dive not always accessible due to the weather conditions. You will find different levels of visibility, depth and types of fauna. The dive starts from inside the lagoon and you then drift with the current outside the reef, encountering a variety of amazing marine fauna: eagle rays, humphead wrasses (napoleon fish), huge nurse and white tip sharks… On the bottom, you find shells taking in the nourishment that the current carries. At the end of the pass, arriving in open sea, you will see an explosion of light and colours from the teeming life. At the point where the lagoon and ocean waters meet, you find a high density of sea life : eagle rays, numerous jackfish, and sharks, …
The Rays corridor
Lagoon /7mn boat ride
Mooring Depth : 5 feet
Maxi Depth : 60 feet
The Rays Corridor dive is a lagoon dive ideal for beginners, and refresher courses.
A site of beautiful coral with a multitude of reef fish. For most divers, there are frequent meetings with white tips sharks and a group of eagle rays (sometimes more than 40 of them). A great experience, even for experienced divers !
The rays corridor drift
Drift dive /2mn boat ride
Mooring depth : No Mooring
Maxi depth : 60 feet
A very special dive. Sometimes, a huge barracuda stays with us during this time. Very good for photos in crystal clear and shallow water. Then on to a white sandy slope where you start the long drift dive (1.5 to 2 miles), following the natural lagoon channel. Just let the current take you and enjoy the dramatic declivity of the coral walls. Look out for the schools of eagle rays and the white tip sharks that stay hidden in coral caves or just lying on the sand. The dive ends is on a coral table surrounded by the coral inhabitants and bottom dwellers.
Opunohu coral wall
Ocean dive /8mn boat ride
Mooring depth : 45 feet
Maxi depth : 90 feet
The show begins onboard with the best view of "the most beautiful island in the world". Once you've seen Opunohu bay by boat, you'll know what we're taking about. The bay is also a very protected area from the eastern winds and waves. Once in the water, you will discover a very special dive for this island, with great coral walls and canyons. You can do several dives in the same area : one goes deeper to the "small (coral) rose garden", a specific kind of coral. The other goes along the big wall. The third one finishes near the Sharks' dining room. In all of the dives, you will encounter sea turtles, sharks and tropical fish and probably a few huge moray eels before crossing from one canyon to the other, staying in the middle of clear water.
The anemones
Ocean dive /10mn boat ride
Mooring depth : 4 feet
You'll be visiting Nemo's cousin's house! This is an ideal "first ocean dive" – shallow and easy. You will see sharks (black tips) our friend Janine, a friendly turtle, octopi and many tropical fish.
The garden of roses
Ocean dive /12 mn boat ride
Mooring depth : 45 feet
Maximum depth : 120 feet
The rose garden is a world renowned one. Although an experienced diver certification level is required due to the decompression stops necessary. For safety reasons, you must have a rescue diver level to be allowed access and have done at least one previous dive with us. Spectacular for the "roses", the big sharks and the very special undersea atmosphere… After this dive, a 24 hours surface interval is mandatory before an outbound flight. Access to this dive is subjet to divemaster approval and depending on bookings.
The Opunohu Canyons
Ocean dive /12mn boat ride
Mooring depth: 45 feet
Maximum depth 90 feet
Keeping to the bottom of the small canyon, you will see plenty of small marine fauna, black tip sharks, and of course huge lemon sharks. At the end of the dive, just before the safety stop, we usually stop to see pretty anemones with their clown fish.
TOPDIVE Bora Bora dive center : Maikai Marina & Yacht Club
+689 40 60 50 50
Mobile +689 87 75 33 10
– Maikai Marina & Yacht Club
– InterContinental Bora Bora Resort & Thalasso Spa
– Bora Bora Pearl Beach Resort & Spa
More
TOPDIVE Bora Bora dive center : InterContinental Bora Bora Resort & Thalasso Spa
+689 40 60 50 50
Mobile +689 87 75 33 10
– Maikai Marina & Yacht Club
– InterContinental Bora Bora Resort & Thalasso Spa
– Bora Bora Pearl Beach Resort & Spa
More
TOPDIVE Bora Bora dive center : Bora Bora Pearl Beach Resort & Spa
+689 40 60 50 50
Mobile +689 87 75 33 10
– Maikai Marina & Yacht Club
– InterContinental Bora Bora Resort & Thalasso Spa
– Bora Bora Pearl Beach Resort & Spa
More
Tapu
Ocean dive /20mn boat ride
Mooring depth : 30 feet
Maximum depth : 130 feet
Exiting the pass, one of the most famous sites of Bora Bora. From the coral drop-off, you will meet lemon sharks, black tip sharks, humphead maori wrasses, moray eels, turtles …
Muri Muri
Ocean dive /30mn boat ride
Mooring depth: 30 feet
Maximum depth: 130 feet
An exceptional deep blue. Accompanied by grey sharks, you encounter a large coral plateau leading to a sandbank inhabited by a colony of gardener morays. In deep open water, you may sight schools of jacks, Heller's barracudas, but also turtles and giant barracudas. Anchor or drift dive depending on weather conditions.
Haapiti
Ocean dive /25mn boat ride
Mooring depth : 30 feet
Maximum depth : 100 feet
From a gently sloping drop-off, shallow craters retain more varied fauna. Near the narrow reef canyons, a magnificent spectacle unfolds. Blacktip and lemon sharks galore, as well as amazing marine flora.
Teavanui Pass
Ocean-Lagoon dive /20mn boat ride
Mooring depth : 10 meters / 33 feet
Maximum depth : 30 meters / 98 feet
Several steps will lead you to the middle of the pass. Black tip and white tip sharks can be seen, as well as schools of scads, barracudas, tunas…and sometimes manta rays. The way back, follows a wall with a variety of blue coral which cannot be found anywhere else.
Toopua
Lagoon dive /25mn boat ride
Mooring depth : 16 feet
Maximum depth : 100 feet
Many tropical fish gather along the wall, among others, anemones with their clown fish. At the bottom, you find a large sand bank where eagle rays and sting rays wander searching for food. Anchor or drift dive depending upon weather conditions.
The Aquarium
Lagoon dive /5mn boat ride
Mooring depth : 13 feet
Maximum depth : 16 feet
Protected site, ideal for beginners. You are welcomed by dozens of multicoloured fish among beautiful coral heads.
Anau
Ocean dive /5mn boat ride
Mooring depth : 20 feet
Maximum depth : 82 feet
You will follow a slope where rose corals grow, they are usually inhabited by various coral fauna. One may very likely meet manta rays there due to the fact that a lot of cleaner fish are waiting for them.
Tupitipitu (private boat only)
Ocean dive /40mn boat ride
No mooring
Maximum depth : 130 feet
At the very southern point of the barrier reef, a breathtaking landscape and an exceptional visibility. 20 meters deep, many coral boulders have shaped into a network of grotto and canyon where many species are hiding. You will then reach a vertiginous wall covered with lovely flora.
Tupai (Private boat only)
Ocean dive /60mn boat ride
No mooring
Maximum depth : 130 feet
A visit to this virgin island promises an unforgettable day. You will appreciate the solitude, enjoying the crystal clear waters and its various spots…from beautiful coral gardens to breathtaking undersea walls. From August and November is the Whale migration season. The humpback whales like to swim in these quiet waters and can be easily approached.
TOPDIVE Tetiaroa dive center
+689 40 83 50 60
Mobile +689 87 70 45 25
The Brando Hotel
Dive reservations for Tetiaroa are only available at special rates on site with the hotel concierge.
More
The canyons
After 20 minutes by boat, you arrive at the dive site that is at a depth of 65ft. A maze of canyons opens up the upper part – rich in coral. The site hosts many tropical fish that benefit from the crosscurrent of the « false pass ». Referred to as a false pass since there is no opening in the reef. As the dive progresses you become a spectator in this underwater labyrinth that offers a beautiful showcase of wildlife. Spotted eagle rays, white tip sharks, humphead wrasses and barracudas are all part of the scenery.
Eden park
After 15 minutes from the divecenter you start the dive on a white sandy plateau scattered with various coral formations. The perfect habitat for many colorful fish : surgeonfish, butterflyfish, clownfish, bannerfish… The sunlight reflects onto the sand offering a breathtaking setting. In the deeper part of the dive (from 50 to 65ft), the reef drops off, giving free access to white tip sharks, spotted eagle rays, barracudas and turtles…
The circus
The site is well adapted to beginner divers considering its shallow depth (50ft maximum). The reef is full of fish that form a semi-circle on the sandy bottom. This dive site frequently hosts many hawksbill and green turtles that come to feed and rest – a real awesome wildlife encounter for divers.
Aquarium in Tetiaroa
Only 20 minutes by boat from the dive center, the Aquarium dive site is located between two "motu" (islets). It proposes a maximum depth of 10ft perfect for introductory and certification dives. You skirt around coral formations during the dive which are inhabited by an high concentration of tropical fish : damselfish, banner fish, butterflyfish and porcupine fish…
The pinnacles
This lagoon site is dotted by a myriad coral formations home to a variety of fish species. Then you follow a coral wall at a maximum depth of 26ft.
TOPDIVE Rangiroa dive center : Hôtel Kia Ora Resort & Spa
+689 40 96 05 60
Mobile +689 87 72 39 55
– Reporepo beach
– Hôtel Kia Ora Resort & Spa
More
Avatoru Pass
Avatour Reef :
Coming out from the right side of the Avatoru pass, you will find the reef teeming with life. The main dive site is situated on a coral plateau of an area of 50 – 65 feet stretched out in the direction of the pass. This site is ideally situated to favour unforgettable sightings of the majestic Silvertip shark (Carcharhinus albimarginatus) and countless other species of fish, like schools of Bigeye jackfish (Caranx sexfasciatus) and perhaps even the African Pompano jackfish (Alectis ciliaris)…
Little Pass (ocean drift dive):
This site is accessible through the incoming current into the pass of Avatoru. Ideally, you would drift from the middle of the pass into a narrow "little pass" between the 2 islets. All along the dive, you encounter several species of sharks like the Blackfin shark (Carcharhinus limbatus), or even Whitetip shark (Triaenoden obesus) seen resting along the small cavities of the wall as well as a multitude of fish species: groupers, moray eels and scorpion fish. Once in awhile, one should scan the surface for a chance sighting of an occasional manta ray with its mouth wide open trawling for plankton. The dive finishes in the calm waters of the lagoon among the fish and beautiful coral. This dive is good for all certified diver levels, especially those having experience in current diving. Maximum depth is 65 feet.
Mahuta (ocean drift dive)
This dive requires particularly calm weather conditions, timed with an incoming current for the best visibility. Entry is on the eastern side of Motu Fara, the small islet in the middle of the Avatoru pass. There, you let yourself drift into an undersea valley where you find a wall covered with magnificent coral formations hosting a variety of aquatic life: unicornfish, surgeonfish, paddletail snappers and fusiliers. You may come across an occasional manta or leopard ray swimming counter current. The undersea journey finishes on the sand dunes punctuated by coral heads covered inhabited by scores of little creatures: nudibranches, moray eels, snappers, groupers, kingfish, Whitetip and Blacktip sharks. Site is accessible to all dive certifications with a minimum diving experience. Maximum depth is around 60 feet.
Tiputa pass
Tiputa Reef
Exiting the Tiputa pass from the left, you'll discover a magnificent coral plateau at a depth of 50 feet. From 65 feet, the drop-off comes rather abruptly, offering a direct view into the big blue.
This site opens up into an abundant display of marine life: a magnificent coral garden with multitudes of fish species. By chance, you'll see a turtle feeding on succulent sea sponges, a few Whitetip sharks wandering the reef, some Grey sharks hidden by a huge school of barracudas, or a napoleon grouper accompanied by a hunting blue jackfish. Other exceptional encounters may be a leopard ray surfacing from the abyss along the reef or a manta ray enjoying the grooming services of many small wrasses. On this dive, one must not fail to look into the deep blue for chance sightings of cruising bottlenose dolphins. Some of which are not too shy to show off their pirouettes in the presence of impressed divers. A dream come true for many a childhood fantasy ! The dive is highly accessible to all certification levels
Myripristis (Soldierfish) Reef
Myripristis is the scientific name of the myriad soldierfish that populate this coral reef.
Located just at the exit of the pass, you'll also discover anemones with their tenant clown fish, many soft coral, marbled groupers and depending on the season: a Grey shark nursery, Whitetip sharks, rays … a very beautiful marine atmosphere. The dive is highly accessible to all certification levels.
The Angle
The Angle is situated between Tiputa pass, offering a view of the Tiputa pass and at the same time of the external drop-off of the open ocean. Depending on the seasons, there may be sightings of large schools of paddletail snappers and hundreds of bigeyed scads in perpetual motion to keep away from their likely predators like the jacks, napoleon wrasses, dogtooth tuna and sharks. Throughout the dive, lingering in the deep blue may bring you into contact with a school of barracudas, dolphins, or perhaps even a Sailfish. Much closer to the ocean floor, one may spy a dozen resting grey sharks. This dive may most likely encounter current, therefore an experienced certified level is required.
The Blue
Descending into the blue of the Tiputa reef, you'll be see, coming out of nowhere, scores of marine life. You may encounter barracudas, jackfish, tuna, Grey sharks, Silvertip sharks, Silky sharks and even Bottlenose dolphins. Underwater excitement guaranteed! To thoroughly enjoy this dive, which takes place in deep blue of the reef, a good mastery of buoyancy control is required.
The step
This dive has amazing underwater topography: the step, the canyons, and the Motu Nuhi Nuhi. Your diveguide will choose the best divepath that provides the most marine life encounters, assuring your maximum comfort and security. Note that a good mastery of one's buoyancy is key to enjoying this drift dive. You shall also be given the best technical drift dive recommendations.
It is an unforgettable experience in your quest for exciting pelagic encounters. Our advice: Be patient and stay alert since these sightings are usually sudden. Keep your eyes wide open and follow your guide. You may be in for a wonderful surprise!
The Canyons
Located on the inside of the Tiputa pass, this site is accessible by way of the incoming current on a drift dive. The canyons are, in fact, faults through the pass. Many fish find refuge in the currents passing through these faults: schools of surgeonfish, whitetip sharks, napoleon wrasses and in the small crevices, the little soldierfish. This undersea landscape provides a temporary refuge to divers from the raging currents and abreast of a major crossing point for many interesting marine life such as manta rays and hammerhead sharks.
Motu Nuhi-Nuhi (aquarium)
The Motu Nuhi Nuhi is a little coral islet located in the lagoon along the axis of the Tiputa pass.
On the west side of the motu is the Aquarium. This site, shallow and sheltered from currents, is ideal for novice divers, diving training or refresher courses. You will discover a beautiful coral garden and a multitude of colorful fish. The east side of the Motu is accessible at the end of drift dive in the Tiputa pass. It is a shallow area where the diver, carried by the current, can observes a variety of lagoon fish, and safely finish his dive by skimming over a sandy bottom dotted with coral heads.
The wall (The fault)
Ocean
Depth of 35 – 165 feet.
This dive takes place along a steep drop-off of broken by faults and rock overhangs, covered with delicate branches of orange and purple Stylaster soft coral. All these caves are home to many species of reef fish, angelfish, surgeonfish, parrotfish, and perhaps you'll come face-to-face with a giant grouper… The water is clear, deep blue. As random encounters, you will see scads, tunas, sharks, gray or white tip lagoon sharks.
TOPDIVE Fakarava Nord dive center
+689 40 98 43 76
Mobile +689 87 29 22 32
Village de Rotoava
More
TOPDIVE Fakarava Sud dive center
Motu Penu (Tetamanu)
Ph. : +689 40 98 43 76
Mobile : +689 87 29 22 32
e-mail : dive@topdive.com
Maiuru
To the left, leaving the pass, we have the superb reef-flat at 65 feet before reaching the sharp drop-off. Channelled reef-flat, variety of corals notably acroporas (table corals) and soft corals. With fewer fish than OHUTU we can enjoy this dive for its habitat and unexpected encounters all throughout the dive. Due to unexpected currents, this dive recommended is particularly for the experienced diver.
Garuae pass
The widest in Polynesia – about a mile long. World renowned for its biodiversity, it is famous for currents, sometimes strong. A dive in this north pass will be an unforgettable adventure. For reasons of security and visibility, dives are conducted in slack water or with inflowing currents in accord with the tides and with your diving experience. You never know what you might come across. Giant specimens can appear at any moment from beyond the fore-reef. In the pass entrance, you will likely run into the famous Raira (gray reef shark) cruising by the dozen in a haze of fish and color. Be prepared for the Ali Baba canyon where the fish gather to shelter from the currents! This dive is from around a 50-70 foot depth. It requires significant experience with strong currents and divers in full command of their buoyancy and ease of movements.
Ohotu reef
On the right side upon leaving the Garuae pass is the magnificent reef-flat at 40 feet, dipping gently to around 100 feet just before the drop-off wall. The dive will proceed along the wall and end back up on the coral gardens of the reef-flat. As well as exhibiting a profusion of vibrant and healthy coral specimens, the reef is a veritable hatching ground for fish. Along the drop-off, we usually come across grey and lagoon white-tip sharks, tuna, scads and manta rays. This dive is open to divers of all levels of experience.
Pufana reef
Located inside the lagoon, near the north pass, shallow (down to 50 feet), the dive is ideal for beginners, training or supplementary dives. It is also the dream place for photographers in search of luminosity (white sand) and calm scenes sheltered from the currents. A good proliferation of flora and fauna of the area. You will come across all kinds of sharks.
Tumakohua pass
Situated in the south, it takes a little more than an hour's sailing to get to Tetamanu. Trips there are planned to take the whole day. Much narrower than Garuae, this pass is just as interesting as its bigger counterpart, with the important differences that currents are much calmer and water depths less. This pass is appropriate for all levels of experience in both inflowing and outflowing currents. Like its counterpart in the north, this pass is extraordinarily diverse in animal and plant life.
TOPDIVE Tikehau dive center
The old pearl farm
The only one dive in the lagoon of Tikehau. You will encounter manta rays that come to be cleaned up by cleaner wrasses. You will contemplate a splendid coral garden at a maximum depth of 15 meters where manta rays gravitate around corals . This dive site offers perfect conditions for every divers from the beginnner to the experienced diver.
Teonai
This dive in magnificent seascapes combining large formations and overhanging corals is the occasion for you to contemplate lion fish, large moray eels and some shoals of barracudas.
Tuheiava
This dive is adaptable to divers of any level. Around the large coral formations gravitates a multitude of fish (parrots, triggers, groupers, moray and lionfish). Further south, towards the end of the dive there is an explosion of multicoloured corals. Napoleon wrasses are always near and manta rays are frequently seen.
Sharks hole
You will dive in a vertical break in the reef. The dive begins at 65 feet to join a depth of 165 feet where the submarine fauna abounds. A wall of grey sharks will welcome you at the beginning of the dive. Throughout the maze of holes and crevices a carpet of red, yellow and blue lined snapper, and soldier fish. For the experienced diver, at about 165 feet, an arch connects the two side of the gorge where divers will play with clownfish slithering around in their anemone homes. Absolutely breathtaking !
La bouée
Porte son nom car c'est le seul point d'amarrage à la sortie de la passe, sur l'angle gauche de celle-ci. C'est un bon point de départ avec une ligne de descente pour les plongeurs débutants. On peut aussi y faire son baptême car le plateau qui s'étire sous le bateau entre cinq et six mètres de profondeur est très poissonneux. Souvent le capitaine dépose les plongeurs certifiés un peu plus au sud sur un fond de dix mètres et on descend progressivement jusqu'au tombant dont le haut est dans les vingt mètres de profondeur puis la pente récifal descend. Nous longeons le récif en direction de la passe. Gardez un œil dans le bleu, on peut voir des requins pointes blanches du large (les fameux "tapete"), une raie aigle ou manta, des thons, carangues et barracudas. A l'approche de l'angle, la vie s'intensifie. La majorité de la faune est entre quinze et vingt mètres : bancs de carangues à gros yeux, perches pagaies, chirurgiens, nasons, balistes bleu, bec de cannes sont à leur apogée à la nouvelle lune. De grosses murènes javanaises avec leur nettoyeurs et beaucoup de poissons lions, des gros napoléons et tortues font de ce site : LA plongée de Tikehau.
Ramu Ramu
Dans l'océan, à dix minutes de navigation de la passe en direction du nord, ce site de plongée est un long canyon creusé dans le récif entre 14 et 20 mètres de profondeur. La paroi extérieure peut réserver de belles surprises mais l'intérêt est dans le canyon. Le paysage sous-marin est ici très découpé avec des anfractuosités, des surplombs qui abritent beaucoup de poissons sciaphiles. De très beaux coraux, quelques gorgones fouet dissimulent une belle faune de petits individus. Sous certaines roches des requins pointes blanches ont élu domicile et il est aussi très courant de croiser des petits requins gris sur ce site comportant cependant moins de gros prédateurs qu'à la passe. Des grands bancs de perches pagaies caractéristiques des cartes postales des fonds polynésiens sont aussi présents sur ce site ainsi que quelques napoléons. Au palier, au dessus du canyon, en vous rapprochant des « hoa », vous pourrez apercevoir des requins pointes noirs. C'est une plongée pour tous niveaux.
La cloche de Hina
Come and discover the wonders of the TIPUTA pass just a few minutes by boat from TOPDIVE Rangiroa. The dive center offers up to 4 dive slots per day, for a maximum of 3 dives per person, per day (subject to conditions).
Back on land, you will enjoy the comfort of a quality divecenter (hot shower, club house, restaurant), a perfect place to share your experience with other passionate divers.
Yacht services
Private boat
Private instructor
GoPro Rental
Nearby snack bar
Snorkeling
Nitrox
Diving for kids
Drift dive
Discovery dive
2 tank dive
Sharks encounter
Nearby beach
Sunset dive
Dive schedule :
08:00am – Fun dive
10:00am – Fun dive
14:00am – Fun dive
16:00am –Sunset dive (minimum of 4 pax)
Introductory and certification dives are also available daily.
Boats :
1 Semi-rigid boat – 12 divers

1 Semi-rigid boat – 16 divers
1 Semi-rigid boat – 17 divers
Equipment :
AQUALUNG Partner
30 Aqualung Sea quest pro QD BCDs
35 Aqualung Calypso regulators with direct-system, octopus
and gauge console.
80 aluminium tanks AIR/NITROX.
30 3 mm shorty wetsuits.
20 wetsuits.
30 sets of Aqualung fins, mask and snorkel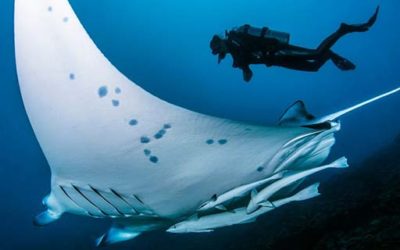 The Manta ray is an imposing cartilaginous fish. It is named Manta ray because of the spanish word "manta" which means –blanket- in relation to its strange shape. There are two species of manta rays: the reef manta ray (Mobula alfredi) and the...
read more